'Unity through diversity:' Olympic gold medalist inspires Pecos athletes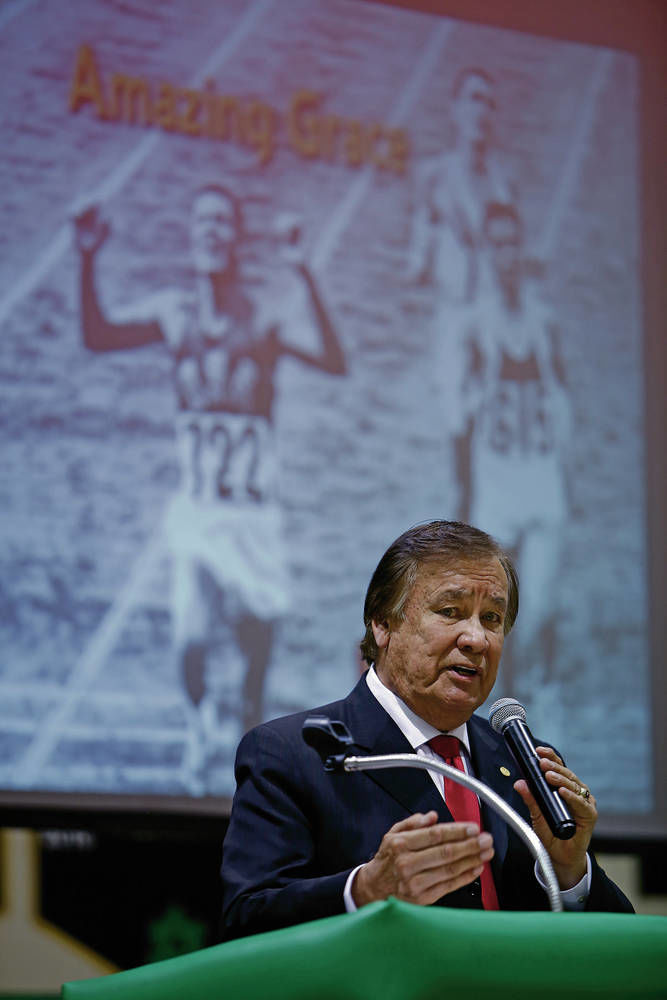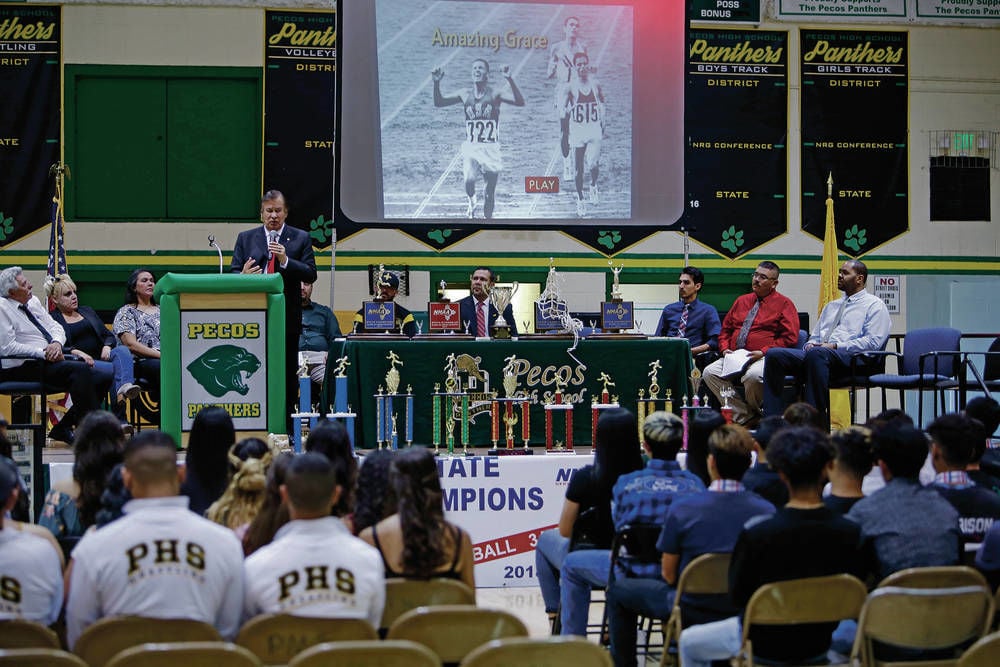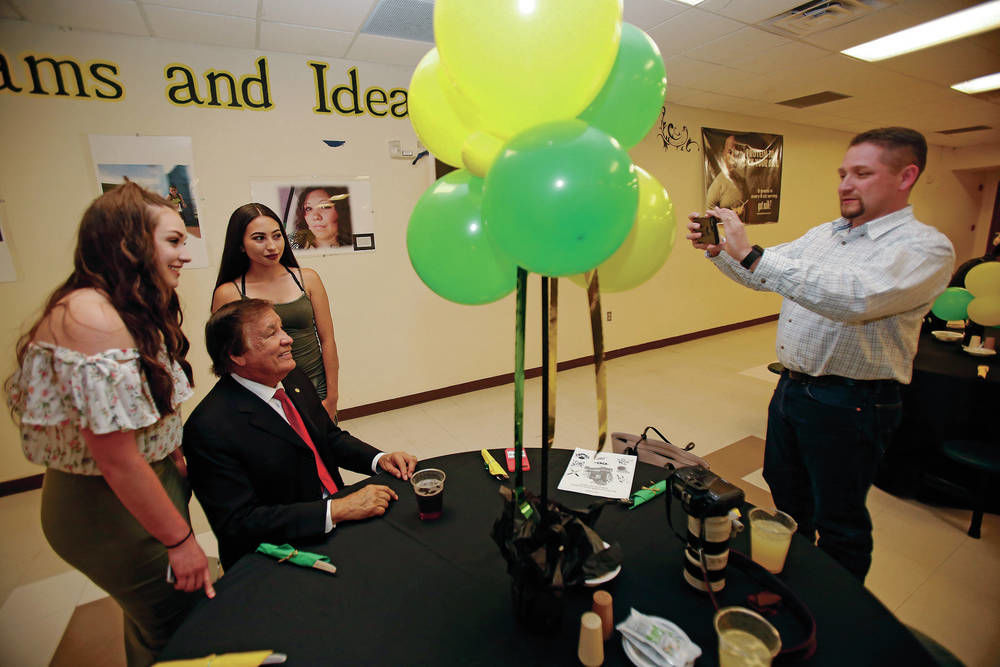 PECOS — Billy Mills had a message, and it seemed perfectly targeted for the crowd of Pecos athletes Wednesday night.
Mills, the guest speaker for the school's athletic banquet in Louis G. Sanchez Memorial Gymnasium, spent 30 minutes telling the crowd of about 250 people about his story that went beyond being simply the only American 10,000-meter Olympic champion and just the second American Indian to win an Olympic gold medal, which he did in the 1964 Tokyo Games.
Mills called his message "Unity through Diversity," and he found a unique way of weaving diverse themes together that were almost tailor-made for some of the athletes in the crowd.
Of course, there was the running parallel of an Olympic legend — a story of a runner who came out of nowhere to set a world record at the time — speaking to a group of Panthers runners who were a part of three straight Class 3A state championships.
Mills mentioned that he thought about quitting at the 3-mile mark of his historic race.
"We are on a cinder running track, and I was within a second of my fastest 3-mile ever," Mills said. "The race is not 3 miles. It was 6.2 miles. There was no way I could continue. I was going to quit. Rather than quitting in third, I decided to take the lead, run one more lap, then quit."
Only he didn't. For senior Carlos Cordova, who was on the cross-country team, he recognized the theme of persevering through struggles.
"He fought through everything and was able to succeed," Cordova said. "That was his message for us."
There was also the message of a community coming to support one of its own. Both of Mills' parents died when he was young, and he relied on his family and community of South Dakota's Pine Ridge Reservation to help raise him. That hit home with Cordova, who lived for the past three years with former assistant coach Dominick Baca after his grandfather passed away in 2015.
"That was very powerful," said Cordova, who will attend New Mexico Highlands University in the fall and said he might walk onto the men's basketball program. "That was very nice to hear."
But he also competed as a diabetic, much like Pecos girls basketball player Cassie Muller has since she was a child, while also battling hypoglycemia, the condition caused by low blood-sugar levels. Mills spoke of how the thick sweat caused by hypoglycemia hit him in the final 100 meters of the race, when he made his charge to beat favorite Ron Clarke of Australia and Mohammed Gammoudi.
"That sticky, clammy sweat," Mills called it.
Muller said Mills spent about 20 minutes during the banquet dinner in the cafeteria, talking about the disease they share. Pecos head girls basketball coach Ron Drake has the disease, and he spent a couple of hours talking with the 80-year-old Mills when he arrived at the school in the afternoon.
"I love talking to people who share this disease and how they overcome it," Muller said. "It was amazing. I loved it."
Mills used his running exploits to help get him a scholarship to the University of Kansas, as Mario Archuleta used basketball to help him earn a spot at New Mexico Highlands University. Mills mentioned that his father challenged him to find his dream after his mother died when he was 8, to channel whatever anger he felt into pursuing it.
"Go find your dream; pursue your dream," Mills said. "A positive, constructive dream that will lead you one of the certain passions you have locked inside of you, son."
Archuleta said he knows his journey to a scholarship was not as easy as it might have appeared on the court.
"You still go through hard times and through those hard times, you can accomplish something great," Archuleta said. "But it's not always about winning or losing. He inspired me to go on to the next level and go 100 percent all the time and enjoy the moment."
In a speech full of moments, the Pecos athletes found something they could take home with them.
Mills became the guest speaker thanks to the efforts of Pecos superintendent Fred Trujillo. He said he kept in contact with Mills' wife in the hopes that a date would open corresponding with the athletic banquet, but the talks began in earnest in December. Trujillo told the crowd in his introduction that Mills was "his childhood hero."
After Mills finished his speech, Trujillo gave him a backpack with the Pecos logo on it that had shirts and other Panthers memorabilia for him.